Barky V3 – dog timer
The Barky dog timer got upgraded. Instead of a reflector it now has 2 active LED emitters. We listened to our customers who were complaining that in wind it became unusable, so we moved the LED from inside the unit to an additional unit.
Timing Device Features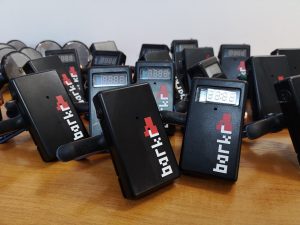 Start and stop timing gates
It has a start sensor and a stop sensor with a small time display.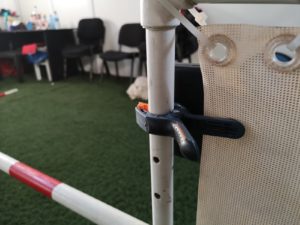 Easy deployment
It uses small spring clamps to hook to most of the jumps. It needs a little space in the jump body to install, which is required anyway.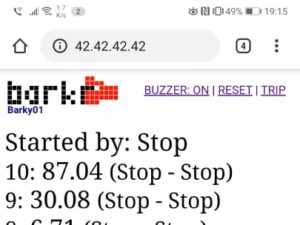 Mobile connection
It will show an wireless AP (access point) to which you can connect and see the times and configure the timers.
40 meters range
It has the standard range of a WIFI connection, about 40-50 meters line of sight.
10 hours+ charge
The included 2000mah batteries will power the sensors for more than 10 hours.
Configurable
Ability to set power, contact time, sensor roles (if Stop can start and Start can Stop or not), course passes (after how many passes through the STOP it stops).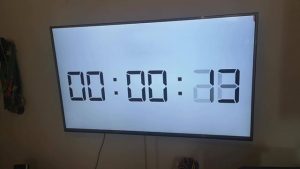 TV mode
Allows for use of a tablet, computer screen or smart TV as a timing display.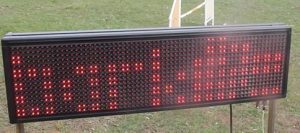 LED display
High visibility wireless LED display. Withe the possibility of USB power.
The package contains 1 start sensor, 1 stop sensor with display, 2 Led emitters (without the 9v batteries), 2 micro-usb charging cables. It does not contain a power adapter.
See more in the Manual
The price is 290 euros (start and stop timing gates) + shipping. Please use the shop below to order.  Shipping is from Bucharest, Romania and it is about 10-15 euros for the EU. 19% VAT will be applied where applicable. Warranty is 12 months.
The LED display is powered by USB (approx 4-5 hours on a 10000 mAh power bank) or 220v. It does not come with the stand. It costs 190 euros.
The Tablet or Smart TV display option costs 19 euros to be enabled. It does not contain a tablet or smart tv.
Subscribe for agility equipment updates
Sign-up to our newsletter to receive product discounts, news and new products for Agility and dog training.